Welcome to The Pet Stop Veterinary Clinic
Your Veterinarian in Lonsdale, MN
Phone (507) 744-3333 Fax (507) 744-4170
5/26/23: Masks are NO LONGER required.
TO VIEW THE LIST OF ER & URGENT CARE CLINICS, SCROLL DOWN & CLICK ON THE VIEW FORMS BUTTON UNDER ON-LINE FORMS HEADING.
MEDICATION REFILL REQUESTS:
Will be completed within 24-48 hours of the request.
If a refill is not requested prior to running out of the medication, we cannot guarantee a time frame in which the medication will be filled as it will depend on:
1) If it is in stock &
2)When it was re-ordered & how quickly the order is delivered from the manufacturer.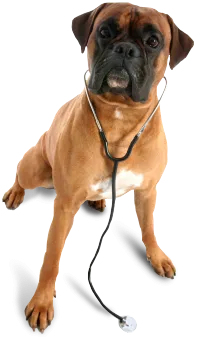 If you live in Lonsdale,MN, or the surrounding area and need a trusted veterinarian to care for your pets – look no further. Wendy Whitney is a licensed MN veterinarian, treating all types of pets. Your pets' health and wellbeing are very important to us, and we take every possible measure to give your animals the care they deserve.
The Pet Stop Veterinary Clinic offers general medicine, surgery, and dentistry with an emphasis on preventive medicine and education. The doctors and staff enjoy being a part of the Lonsdale community as they provide quality, affordable, veterinary care for your pets.
The Pet Stop Veterinary Clinic has in-house x-ray services and blood chemistry equipment to help provide same-day results and treatment in many cases. Ultrasound services are available by appointment. Prescription Diets, health products, and microchip services are also offered. Gift cards are available.
The Pet Stop Veterinary Clinic is a full service animal hospital and welcomes both emergency treatment cases as well as pet patients in need of routine medical, surgical, and dental care. Wendy Whitney has years of experience treating serious conditions and offering regular pet wellness care. Beyond first rate pet care, we make our clinic comfortable, kid-friendly, and calm, so your pet can relax in the waiting room and look forward to meeting our Lonsdale veterinarian.
We are happy to offer a number of resources that enable you to learn about how to take better care of your pets. Please feel free to browse our site, particularly the informational articles. The best veterinary care for animals is ongoing nutrition and problem prevention, so becoming knowledgeable about preventative pet care is essential to the ongoing success of your animal's health. If you have any questions, call 507-744-3333 or email us and we'll promptly get back to you. Our Lonsdale veterinarian office is very easy to get to -- and you can find directions on our Contact Us page! We also welcome you to subscribe to our newsletter, which is created especially for Lonsdale pet owners.
Heartworm prevention should also be given. Make sure your dog or cat is adequately protected by a product with a wide margin of safety and also a broad range of control over not only heartworms, but also intestinal parasites.
Cases of pets ingesting their owners' medications are becoming more frequent. Keep pill supplies safe and all pills accounted for when opening medications to avoid poisoning your pets.
Rabies vaccination is important for all pets, even if they are kept mostly indoors. Skunks will come into backyards and porches, and bats are known to enter houses: both animals are frequent rabies carriers in Minnesota. By keeping your pet vaccinated you are helping to protect your family from this fatal disease.
At The Pet Stop Veterinary Clinic, we treat your pets like the valued family members they are.
Wendy Whitney DVM, MPH

117 Delaware St. SE, Lonsdale
MN 55046